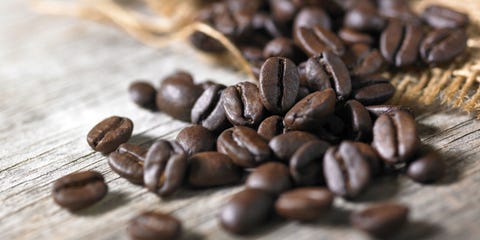 However you like your coffee, these WD-approved picks will top off your morning and even help out with some great desserts. From decaf to lighter blends, click through to find out which beans you should be buying.
CHOOSE IT Coffee beans begin to lose flavor within minutes of grinding, so for maximum taste, buy them whole and grind just before brewing.
BREW IT For a rich, aromatic pot, use 2 Tbsp grounds per 6 oz water. (Add extra water to the cup for milder coffee.) For the cleanest taste, use filtered water.
STORE IT Moisture and oxygen are the enemies of freshness, so avoid the freezer and fridge (which cause condensation) and keep your coffee in an airtight container in a dark, dry place at room temperature.
These lightly roasted beans produce a bright and delicately flavored cup with an easy finish.
Allegro Organic Breakfast Blend ($9.99 for 12 oz)
This balanced blend boasts an earthy aroma and a full, deep flavor for a leisurely morning sip.
Organic Coffee Co. Zen Blend ($13.99 for 12 oz)
These rich, dark beans brew a robust and vibrant wake-me-up for those who like it strong.
San Francisco Bay Coffee French Roast ($8.50 for 12 oz)
This medium-roasted coffee, which is only available ground, has a velvety flavor.
Gevalia House Blend ($21.65 for pack of two 12 oz bags)
Mild and mellow, this is the smooth crowd-pleasing classic minus the buzz.
Dunkin' Donuts Dunkin' Decaf ($7.99 for 12 oz)
A taste-good, feel-good brew—the beans are from small-scale farmers across East Africa.
Peet's Coffee Uzuri African Blend ($16.98 for 12 oz)
Out of Oakland, CA, Blue Bottle's website makes it easy to choose the right coffee—it will give you recommendations based on your brewing method. The Bella Donovan, their most popular blend, is a mellow and smooth sip with a rich flavor.
Blue Bottle Bella Donovan ($19 for 12 oz; BlueBottleCoffee.com)
Founded by a father-and-son team and roasted in Chicago, Metropolis offers up to 18 varieties of coffee on their website. Their Spice Island blend, using beans from Indonesia and South America, is dark and daring, with a deep, smoky finish.
Metropolis Spice Island ($13.90 for 16 oz; MetropolisCoffee.com)
Hailing from Portland, OR, this cult coffee brand is now served in restaurants and cafés around the country. Holler Mountain is one of their signature organic blends and yields a dark, robust cup with an earthy and aromatic finish.
Stumptown Holler Mountain ($15 for 12 oz; StumptownCoffee.com)
This coffee company focuses on education, with eight training centers around the country where coffee lovers can learn espresso-making skills and participate in coffee tastings. The Rustico Organic blend has a clean and fresh flavor with a zingy finish.
Counter Culture Rustico Organic ($13.75 for 12 oz; CounterCultureCoffee.com)
Roasting in Seattle since 1996, the early days of specialty coffee, this coffee store also has cafés in Oregon, California and New York. The Queen City blend, a combination of six beans from across the globe, produces a complex, smooth cup with subtle dark cocoa flavors.
Caffe Vita Queen City ($12.95 for 12 oz; CaffeVita.com)
Bringing simplicity to the world of specialty coffee, Storyville offers only two blends: Prologue (standard) and Epilogue (decaf). Their clear instructions make it easy to brew a delicious and balanced cup, and the beautiful packaging makes a lovely gift.
Storyville Prologue ($16 for 8 oz, includes shipping; Storyville.com)