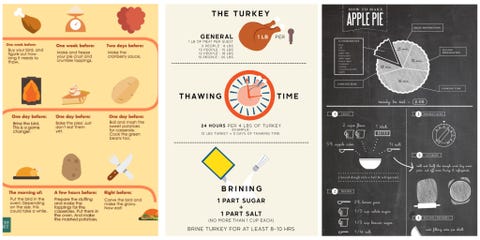 Consider this your ultimate survival guide to the year's most stressful holiday. Learn how to carve a turkey, master a lattice crust, set the table and more with these whip-smart instructions.
So how much food do you need to make anyway? This guide will help you figure it out.
See more on Good Housekeeping »
Yes, even you can be totally chill on Thanksgiving. It's all about proper planning. This chart breaks down nine things you can prep before the big day.
See more on Fine Dining Lovers »
Everyone knows it's all about the bird on Thanksgiving. Step one is choosing the right size. Here's a helpful guide to selecting, thawing and brining the thing.
See more on Obsev »
The last thing you want is an overcooked or dry turkey. Study this chart and that will never happen.
See more on Visual News »
Now for the most terrifying part: carving the bird. Lucky for you, this visual makes it look easy so you can keep all your fingers. Sweet!
See more on She Knows »
Lumpy gravy, you can't sit with us. (You can thank this genius cheat sheet for playing bad cop.)
See more on The Kitchn »
Upgrade Your Mashed Potatoes
Breathe some life into those little beige spuds with these insanely delicious flavor combinations.
See more on She Knows »
Veggies account for 99% of Thanksgiving side dishes, so you better not burn them. This chart will keep you in check.
See more on Domestic Superhero »
Make Your Own Pumpkin Pie Spice
You know you're going to want to sprinkle this on everything — might as well replace the salt in the salt shaker with it.
See more on KetoDiet Blog »
Everyone knows the crust is the best part of pie, so memorize these ratios for the flakiest dough.
See more on Buzzfeed »
Because it's America's favorite pie, so don't mess it up. No pressure.
See more on La Dolce Vita »
Lattice tops are scary, we know, but this guide really helps.
See more on Carpé Season »
When you look at a pie recipe and — gasp! — it's written in the metric system.
See more on Java Cupcake »
Because sometimes we all need a little reminder of where the salad fork goes...
See more on Steve Aoki »
We know we should be deto the next day, but just look at all these possibilities...
See more on Fast Company »
From: Good Housekeeping US